Political surgeries for the year are confirmed as per the list below.
No dates yet for the summer months, given the lower turnout experienced in good weather! However, Daphne is planning an open invitation to have a 'Cuppa with your MHK' on Laxey prom instead as that is where she gets to talk to more constituents about local concerns.
Please check local media and social media for outdoor surgery dates. Please also confirm the announced surgeries nearer each date in case of cancellation owing to illness for instance.
All are listed on the 2023 wall calendar, delivered by IoM Post early January.  If you have not received a copy or would like additional copies please contact Daphne or download it here.
Political surgery dates with Daphne Caine MHK and a local commissioner, some to be confirmed (TBC):
Saturday January 28 at Garff Commissioners Office, New Road, Laxey 1030- midday with Mel Christian
Saturday March 11 at Garff Commissioners Office, New Road, Laxey 1030-midday with Tim Kenyon
Thursday 13 April at Archibald Knox pub meeting room, Avondale Road, Onchan 5-6pm, with Onchan Commissioner TBC
Saturday May 13 at Garff Commissioners Office, New Road, Laxey 1030- midday Jamie Smith
Saturday June 24 at Garff Commissioners Office, New Road, Laxey 1030- midday Marinda Fargher
Saturday October 14 at Garff Commissioners Office, New Road, Laxey 1030- midday  Aishlinn Creer TBC
Thursday November 23 at Archibald Knox pub meeting room, Avondale Road, Onchan 5-6pm with Onchan commissioner TBC
No booking required – just drop in.
Local commissioners will be co-hosting political surgeries with Daphne Caine during 2022.
Onchan Commissioner and Manx Labour Party policy officer Fenella Logan will co-host a political surgery on Thursday 16 June 2022 at the Archibald Knox meeting room from 5.30-6.30pm.
Meanwhile, Garff Commissioner Melanie Christian will co-host the next scheduled surgery in Laxey on Saturday 17 September 2022 from 1030 to midday.
All constituents are welcome to attend with no appointment needed.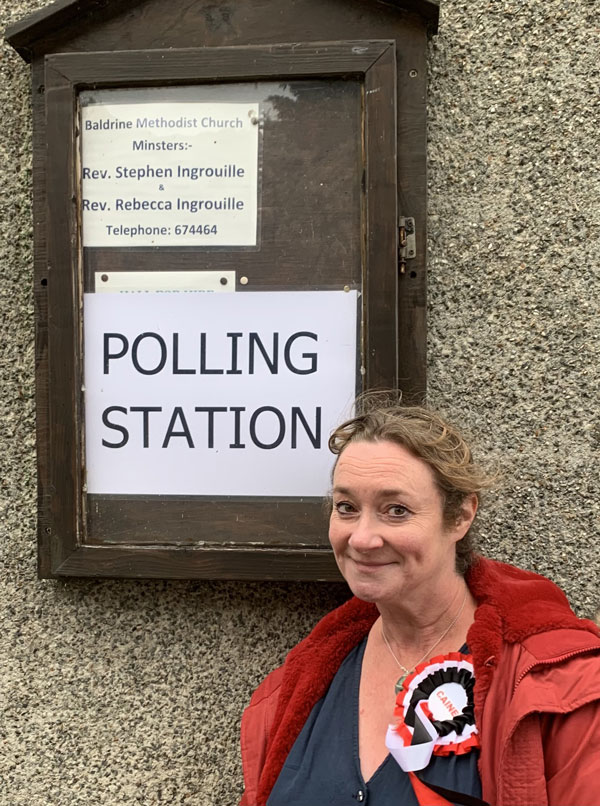 Thank you to all Garff constituents for re-electing me to serve in the House of Keys for a further five years.
I was humbled to top the poll with 1122 votes within such a strong field of candidates. I pledge to work on behalf of all Garff constituents and in the best interests of the Isle of Man in Tynwald.
It is pleasing to be part of a history-making House of Keys, which saw a record 10 women elected on 23 September 2021. I look forward to a more gender balanced Council of Ministers taking the island forward with progressive policies that put the Isle of Man community at the heart of its decision making.
Congratulations to Andrew Smith on also being elected as a Member for Garff, and my thanks to Martyn Perkins for all our joint working over the past five years.
The first political surgery has been arranged for Saturday 13 November at Garff Commissioners Office, New Road Laxey, from 1030am until midday. We will be joined by newly elected Garff Commissioners Melanie Christian and Aishlinn Creer. All Garff constituents welcome.
Please contact me by email daphne.caine@gov.im or phone (office) 651519 to raise any constituency matters.
Best wishes
Daphne
It has been an honour to represent you for the past five years as MHK for Garff.
Having lived at the heart of the constituency for 25 years with my husband Chris and our two children, who now attend Ramsey Grammar School, I have sought to put the issues that matter to you at the forefront of all that I have done locally and in Tynwald.
I care passionately about the future of our island and have been actively working at local and national level to press for positive changes to benefit residents of Garff and the wider island.
My vision is for the Isle of Man to become a beacon of sustainable living, with affordable homes and increased environmental awareness. A place that harnesses a variety of renewable energy generation and becomes a centre of educational excellence, attracting graduates to return and study here. A place with exciting varied job opportunities, where entertainment and outdoor activities abound, and with fair taxation supporting services for the most vulnerable and removing inequalities from the youngest to the elderly.
If elected I pledge to work for a positive future for all the residents of Garff and the Isle of Man adhering to the principles of fairness, openness and security outlined in my manifesto for the benefit of the whole community.
Hopefully my track record in Tynwald and the constituency, working with and responding to the concerns of the community, demonstrates my strong commitment to you.
Full details of my policy priorities for the next five years can be found in my 2021 manifesto – available here. Copies are scheduled to be delivered to every home in the Garff constituency by mid-September. You can see what I hope to achieve in future in the manifesto for 2021 and compare my work over the past five years with what I said I would do when I first stood for election in 2016.
Please contact me if for any reason you do not receive a copy, or if would like it in a more accessible format – Braille, audio or large print.
Polling day for the House of Keys General Election is Thursday 23 September 2021 from 8am to 8pm. Please take time to vote. I would be grateful if you would give me one of your two votes to continue working hard for a positive future for our community and the Isle of Man.
Isle of Man residents are being invited to give their opinion on changing the divorce process on the Isle of Man.
The public consultation launched today on https://consult.gov.im/ seeks views on moving to a modern process that would enable a couple to apply jointly for a divorce or dissolution of civil partnership without having to state the reason why.
Significantly a couple could finalise their divorce in 26 weeks if the proposed legislation is approved. At present if both couples agree to divorce they must wait two years; where one party does not agree to divorce the separation period is five years. A divorce can be achieved more quickly where 'fault' is agreed – where one partner takes the blame for adultery or unreasonable behaviour.
Garff MHK Daphne Caine was given leave to introduce a Private Member's Bill in October 2018 that sought 'to amend the grounds for divorce, dissolution of civil partnerships and judicial separation; and for connected purposes'.
Mrs Caine said: 'Divorce is acknowledged as one of the most stressful life events a person can experience, second only to the death of a loved one.
'However, once couples have decided to divorce or dissolve their civil partnership, the process can be a lengthy one and have a long term negative impact on the couple and on children in particular. The purpose of bringing forward this Bill is to make divorcing a more honest, simpler and less stressful process.'
The public consultation reveals the island's recent divorce statistics:

These show that in the past three years 'fault' based divorces – where the cause was given as adultery, desertion or unreasonable behaviour – have been around 56 to 61% – similar to England's average of 60%.
However, in Scotland where no fault divorces are available, the figure is closer to six per cent for fault based divorces.
Family law advocate Hazel Smith commented:  'Ethical family lawyers sign up to a code of practice which requires us to seek to minimise conflict during the divorce process.  However the process itself, which in around 60% of cases means that one party blames the other for the breakdown, fans the flames of conflict.  The study of 2017* reports that 62% of petitioners and 78% of respondents said using fault had made the process more bitter.
'A total of 21% of respondents in a fault based divorce said that fault had made it harder to sort out arrangements for the children and 31% said it made it harder to come to a solution on finances.  This flies in the face of modern, problem-solving family justice.  The current law is over 50 years old.  It has been criticised for decades in many reports and in Law Commission reviews.  This new legislation is a real opportunity to minimise the consequences of relationship breakdown for all – adults, children, the court system, Treasury and society as a whole.'
The consultation remains open until 2 January 2020 at: https://consult.gov.im/private-members/no-fault-divorce-legislation/
*The Nuffield Foundation report referred to above, published October 2017 can be found here:
https://www.nuffieldfoundation.org/news/divorce-law-england-and-wales-increases-conflict-and-suffering-separating-couples-and-their-chi
Full report: https://www.nuffieldfoundation.org/sites/default/files/files/Finding_Fault_full_report_v_FINAL.pdf
Paper copies of the consultation are available on request and from the Welcome Centre in the Sea Terminal, Douglas.
Do you think residents of the Isle of Man should have the right to vote for the head of our government? Or are you content that in a parliamentary democracy it is accepted that elected Members of the House of Keys nominate and elect the Chief Minister from the lower chamber? This was changed in 2018 to ensure that in future only MHKs vote for the Chief Minister, not also Members of the Legislative Council as in previous years including 2016 when Hon. Howard Quayle MHK was elected Chief Minister.
It is something that I have mulled over following participation in a year long course on Parliamentary Governance at McGill University School of Continuing Studies in Canada. I may pursue this with a debate in Tynwald in the future.
In the meantime I am grateful to Professor Peter Edge of Oxford Brookes University who with academic colleagues, Professor Jennifer Corrin (The University of Queensland Law School) and Professor Claire de Than (Jersey Law Commission), produced a paper explaining the system of electing the head of government in the Pacific state of Kiribati and suggesting the potential for a similar system on the Isle of Man – that would enable a Chief Minister in the future to be elected by public vote.
It is best explained in the Executive Summary:
This report examines the unique arrangements for the appointment and removal of the President of the Pacific state of Kiribati, in the context of political, historical and social factors. It outlines the potential for similar mechanisms to be introduced in the Isle of Man, while remaining aware of the significance of the constitutional, geographical and cultural differences between the two jurisdictions. The report concludes that the dual effect of a vote of no confidence in Kiribati's model, which triggers not only a new Presidential election but also a fresh general election for the legislature, provides a measure of balance between competing democratic mandates. However it is not the only option, and refinements could be made. Requiring a special majority for a vote of no confidence in the President without triggering a general election may also be considered. Attention should also be paid to identifying the desirable number of presidential candidates, and to how they are to be nominated.
I would welcome your thoughts on the idea. The system is fully explained in the Kiribati Report which you can view here.
Contact details:
Email daphne.caine@gov.im
Facebook @CaineforGarff
Twitter @daffydowndilly
On 1 October 2019 more than 100mm of rain fell on the Laxey Valley. I have spoken with several residents whose property has been flooded; also contacted by many seeking to pass on concerns or information to prevent future flooding. The Chief Minister has announced an independent review will take place. As soon as details of that review are made public I will add them here and send through information I have received.
The announcement about an independent review came during lengthy questioning in Tynwald. You can see the full statement and Tynwald questions here:
https://www.gov.im/about-the-government/departments/the-treasury/laxey-flooding/
Advice for flood victims
The Association of British Insurers has advice on recovering from major floods, including what households and businesses can expect from their insurers and what other actions they should consider taking.
Please see the links below to their online advice for people who have been flooded:
https://www.abi.org.uk/globalassets/files/publications/public/flooding/abi-guide-to-responding-to-major-floods.pdf
https://www.abi.org.uk/products-and-issues/topics-and-issues/flooding/recovering-from-a-flood/
https://www.abi.org.uk/globalassets/files/publications/public/flooding/abi-guide-to-resistant-and-resilient-repair-after-a-flood-2019.pdf
Hard copies of the advice are available in the Tynwald Library, Finch Road, Douglas.
The final Garff political surgery of 2019 is scheduled for Monday 4 November at the Archibald Knox meeting room, Avondale Road, Onchan.
All constituents are welcome to attend between 5pm and 6pm.
Any constituency issues can be raised at the surgery with me or Martyn Perkins MHK.
Contact us direct to arrange a private appointment:
Office Tel: 651519 / 651518
Email: daphne.caine@gov.im
My reflections on the past year in Tynwald.
Daphne Caine reflects on her experience so far as MHK for Garff and her priorities for the coming months in this midterm interview from 3FM.
Original source: https://www.three.fm/the-midterms/garff/